Welcome to the Hallwyl Museum on September 15 for a satellite event of the XIV OuUnPo Session – a lunchtime session with a gesamtkunstwerk created by Henrik Sputnes and Vilma Luostarinen in collaboration with artists Felicia Atkinson and Rasmus Persson + release of the publication Ö.
Named after a 13th century painting by Giotto, Dream of the Palace is an obscure place of lost memories, an environment which reflects the mental processes of remembrance and forgetting – a composition of light, sound, scent and objects. In the centre is the sound sculpture APOEMAS by French artist Felicia Atkinson, an abstract and ambient collage of sound fragments accompanied by
a light installation by Rasmus Persson.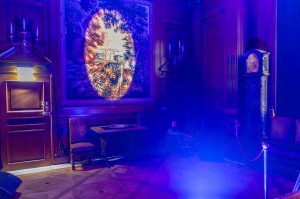 The experience will also include the launch of the publication "Ö – A Möbius Trip", the exploration of a mysterious island in the Stockholm archipelago by a group of international artists. The expedition leaders, Per Hüttner and Isabel Löfgren, will lead you into mazes where the mystery of islands and fantastical thinking allow you to encounter the unfamiliar in an alternative and expanded universe. Participating artists are: Cecilia Ahlqvist, Valerio del Baglivo, Andrea Hvistendahl, Marcia Moraes, Lillevan, Egill Saebjörnsson, Camila Sposati, Samon Takahashi, and special appearances by Atle Baekken, Mats Hjelm, Jean-Louis Huhta and Emilia Rota.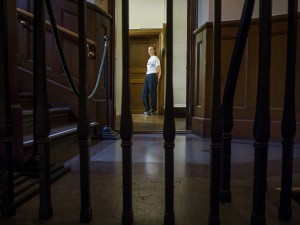 Dream of the Palace is a satellite of the previous session that OuUnPo held in last February in Stockholm. The theme revolved around the state of fugue; a dissociative amnesia in which the patient wanders into a temporary new identity.
OuUnPo is an international artist and research group which forms a part of the organisation Vision Forum, committed to promoting and supporting artistic projects by combining art, research and education. More information about OuUnPo and the previous session can be found on
ouunpo.com.
The event is organised by Naïvité, a curatorial duo and a platform for contemporary art and experiences. Their work is characterised by research, narratives and the creation of collaborative gesamtkunstwerk. Henrik Sputnes is a curator and project manager based in Gothenburg and Vilma Luostarinen is a London-based curator. In collaboration with Hallwylska museet and with support from Stockholms Stad. Special thanks to Lisa Sputnes Mouwitz, Ari Luostarinen and Carima Neusser. Photos by Ari
Luostarinen